I was over at Anthro looking at the new summer line, and thinking what I wouldn't give if all of their stuff was priced half of what it is normally (*ting*)

Then I saw this ensemble
and got all excited to think maybe wearing aprony/smocky things will actually be a trend this year (and not just a couple of us rebels wearing their TOO submissions in public).

I made my way over to the apron section of the website, and realized - hey - these are the most reasonably priced things here! You still get great fabrics and details, but for around 20 bucks.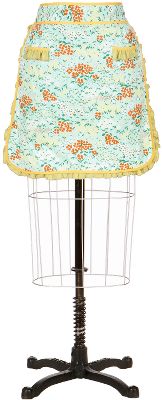 I'm glad it finally feels like Spring around here - very mild weather - a little cool, and with a hint of moisture in the air. The Winter was too hot and dry. Spring weather also motivates me to work out more so I won't look like a heffalump in any new clothes I do end up buying!